DIY Facemask
Nicholas Myers
·
April 08, 2020
Are you interested in making masks from home? Not sure how to do it? Well, Jazzy will be walking us through a step-by-step tutorial so you can easily follow along at home!
PATTERN
You can download the DIY face mask patterns here:
PDF mask+1+regular+size+with+pocket+A-side and B-side and SVG here.
PDF mask+2+large+pattern here and SVG here.
PDF mask+2+regsize+pattern here and SVG here.
PDF mask+2+child+pattern here and SVG here.
To support the original pattern maker, please visit Jennifer Murphy on Instructables.com 
A BIG THANKS goes out to her for providing a quality Face Mask Pattern!
If you have created or plan on creating homemade face masks be sure to use the hashtag #sewinthistogether.
DISCLAIMER - This mask is NOT medical grade and does not serve as a replacement for real medical supplies including N95 masks that are approved for medical use, but with a shortage of supplies, some clinics are able to use basic masks like these in combination with N95 masks or for lesser medical conditions. Please contact your local health officials to inquire about their needs for homemade masks and the requirements that need to be met. Visit the CDC's website here for more recommendations and information - 

Transcribed section below:
First we are going to talk about the pattern we will use for the masks. It's essentially two pieces, and we'll lay them on a piece of fabric. We are going to use a fat quarter which is 18 x 21 inches, fold it in half, then use a pen that erases with heat to trace the pattern onto the fabric. 
Piece A is furthest from Jazzy and is the back of your mask while piece B is the front of your mask. You also need four strips of fabric, each strip is 1 and ¾ inches wide. You need two that are 14 inches which are for the bottom straps, and you need two that are 18 inches long and are for the top straps.    
To make the straps properly we are going to walk through the process once and then you can repeat it 3 more times. First we will take a strip and fold it in half hotdog style and then press it with the iron, you can use steam if you desire but Jazzy chooses not to. Once you have your first crease completed then you are going to do it again but smaller. Reference the GIF below.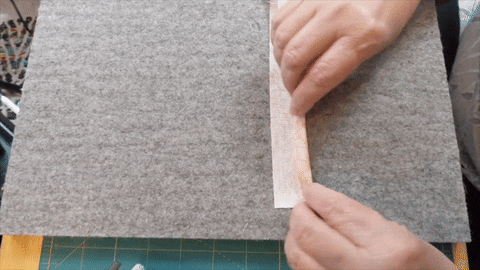 The reason Jazzy doesn't use steam is because it allows her to leave her iron on and fold and press much quicker and easier than otherwise. Once one side is completed turn it over and do the exact same thing. If you don't want to you can also use bias tape, which is basically the same thing as the straps but you won't have to press it or fold it. 
Once it's been folded on both sides we are going to take it to the sewing machine, for us it's the Baby Lock Presto 2 on setting number 1, this is a back tack. When sewing something this narrow you want to be cautious, as you can use a quarter inch foot, but some machines don't have a quarter inch foot so you can still use the standard sewing foot. In the image below you'll see that the strap is at about ⅛ of an inch and then using a piece of thread that is attached to the strap Jazzy will hold the thread to start the line so it doesn't get caught on sewing the two pieces of the strap together. Reference the GIF below for a demonstration.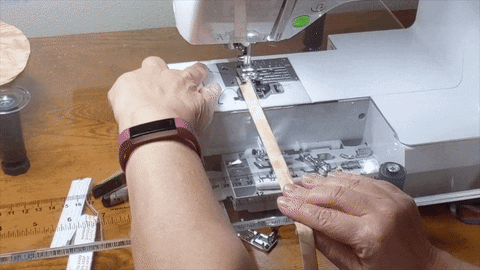 There are two things you can do at the end. When Jazzy cut the strip out she used a salvage edge and because she did she doesn't technically have to finish the edge. If it's not finished from the manufacturer and you fold it up and fingernail press it then fold the sides in again. If you would like to use pins you can but this way for Jazzy at least it's a little quicker. When you get to the very end you are going to pivot by lifting the presser foot and turning the strap 45 degrees and we will do a back stitch again just like the one we started off with. (Check the GIF below for reference) Once that is completed trim your threads as it's better to trim the threads through your project as opposed to the end.The roar edge one is the edge that will go on the inside of the mask when it's put together. Repeat this process 3 more times to get all the straps.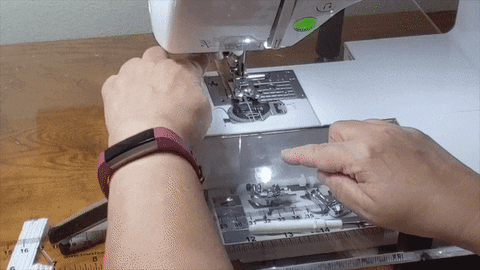 Now we move onto the masks themselves, we will take Piece A first. Still using the same stitch we are going to do about a ¼ of an inch seam and stitch the curved edge. After that is completed trim the thread again and put piece A aside moving onto piece B. With piece B we are going to do the same thing, lining up the two pieces of fabric and stitching along the curve. Once completed of course trim the edges and we have the inside seams complete. Along the edge of the rounded part of the mask you can take pinking shears to trim it if you like or you can take snippers and snip halfway in. This gives it an easier turn when it curves. Apply this same technique to Piece A.
Once you have this done for both pieces you can turn them right side out so the seam is on the inside of the mask and press it with the iron. Another way to press it is if you have a large cone of cotton thread that is used when crocheting you can put the mask on it and press it that way too. 
Remember that the longer piece is the back piece, and we will now put the front and back of the mask together. We will then put both right sides together and both pieces will have the seams face the outside while lining them up. This is important as we want the seams to be facing opposite directions from each other. Jazzy likes to pin the center and the sides once the curves have been lined up but you don't have to, this just helps keep the fabric from slipping. Going back to the sewing machine, still using a ¼ in and using a back stitch at the beginning and the end. As you begin sewing be sure to remove the pins as you go along. When you get to the top make sure that the fabric is all flat. You can curve the opposite side of the mask where you are sewing to make it flat, Jazzy leaves the middle pin in and goes slowly around the curve. It probably won't be perfect but that's ok. Once you are around the curve you can pick up speed, and pull out the pins to finish it up, and of course don't forget to trim the threads at the end.
Not you can flip the mask right side out, and if you get confused which side is the front or back the front is the short piece. We are going to flip it wrong side out again and create some snips along the seam again of both pieces A and B. When doing these be mindful not cut yourself and snip the thread. If you do snip the thread then your mask will fall apart when you wash it.  
Before we sew the bottom piece together we want to put a nose piece in, you don't have to however it helps to avoid getting the fogging effect on your glasses from your breath and fits better on your face. There are two things you can do, first we have twist ties, they are plastic coated and nothing fancy! If you don't have those then you can also use pipe cleaners. With the pipe cleaner you can fold it in half and cut it (but not with fabric scissors) then fold one of these halved sections again and cut it. With whatever kind of wire you use make sure you fold the sharp side in. We do this because once we wash these the sharp end can come out and stab you in the nose or come out completely and tearing your mask. We will then fold our small piece in half so we know where the center is.
Now we have the most difficult part of the process, but you can do it! We are going to press it to make this process a little easier. In the video Jazzy is pressing on a wool mat that we sell at Myers and these are great for pressing and using the iron because when you use steam or heat it does not go through and ruining a cutting mat you might have underneath. 
Once your mask is pressed go ahead and open it and don't worry if it's not amazing, it just needs to be pressed so it's flat. Then go ahead and open the mask so you are looking at the inside. Then go ahead and unbend your pipe cleaner or twisty tie a little bit so it has a slight arch and put it on top of the fabric with the front end being to your right. You will then fold in the pipe cleaner or twisty tie into the fabric, flip over the fabric while holding it and pin it in place. 
Now we will change the setting on our machine, we are using a Baby Lock Presto 2 and switching to setting 10. Which means it's a zigzag pattern with a tacking mark so it stays in place. We use the zigzag so that we catch the edge of the mask on the curve, and we widen it to 3.5 because we are using wire and we don't want our machine to hit the wire or the pins.
Going back to our machine in this case the Baby Lock Presto 2 we have our needle far over on the right hand side which is good because we know we are on the outer edge of our zigzag.
We are going to start on the blue mark and put it underneath so the needle is right above the fabric. In between Jazzy's fingers underneath the fabric is the wire which you can see in the image below. 
Now we will begin sewing and move slowly while taking the pins out. The next tool Jazzy will use is called a "Purple Thang" you'll see an image below. It has a flat end and a curved end, when things get stuck and you don't want to have to lift you can use it to flatten or push. If you don't have this you can potentially use the end of your cleaning brush or a chopstick. However don't use scissors because they are pointy and can potentially rip your fabric creating a hole which will lead to fraying.
We will continue down the rest of the curve of the mask while being wary and taking pins out while we go. It's a good idea to flip out the mask and check your work to make sure the wire has been sewn into it properly. If a small portion of the wire is sticking out and you'll think it may become a problem then you can go back and do the zigzag pattern again after you flatten it. If your mask is good to go, move forward to trimming your threads. We are going to continue with making the masks by flipping it inside out and putting the right sides together and pinning them. 
Moving off of zigzag we are going to go back to the number one setting on the Baby Lock Presto 2 which is a straight stitch and back to a ¼ of an inch. We are only going to be sewing where the two pieces will be meeting, and of course when you're finished trim your threads and then turn it outside in.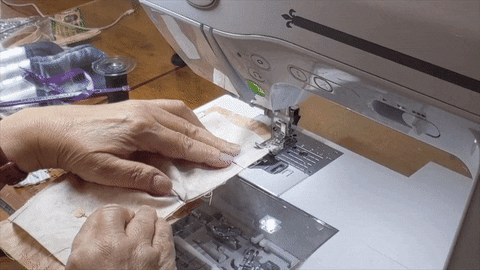 We are going to press on the straight stitch now and because it's a straight line we don't need to clip on the inside. Near the edges of the masks is where the straps will fit in and you'll see Jazzy has folded it and we'll create a stitch for the top and bottom of these folds so they don't move around, and of course trim your threads. 
Now we have a single layer of fabric on the end which we will fold in and press and fold it in another time and press. Do this on the opposite side as well. Once this is completed we will grab our straps.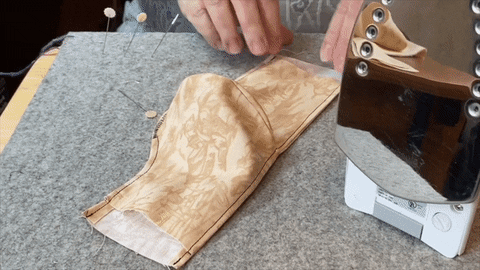 With each strap you are going to need one long and one short for each side. You will then fold over and hold the mask in place, reference the GIF below.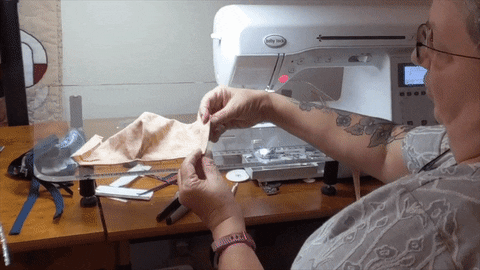 A longer strip will go in the top portion of the mask.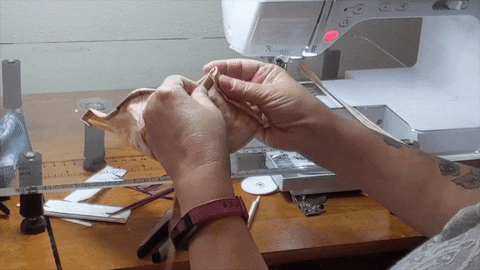 Now because we are having layered fabric we are going to need to use a heavier needle. In Jazzy's Baby Lock Presto 2 she has 9014 which is universal, but if all you have is a needle for jeans then she would recommend that instead of a 70. If you have a piece of thread from the mask hanging out it might be wise to hang onto it when sewing. Once you begin only go about halfway so you can prepare the second strap on the lower half. Then you'll add the short tie under the fold and complete the stitch. 
Once completed you are going to want to pull the strips over the mask towards the outside and sew them on again to create a strong bind because you'll be pulling on the straps and eventually it will break sooner unless you do this.
Now when you flip the mask on the other side you'll be on the bottom so you'll want to use the short one first and then repeat the process. 

0 comments