Certified Pre-Owned | Baby Lock Vibrant Serger
This product is unavailable
This is it: the place where serging begins, and it leads you and your sewing skills to a dynamic future. Vibrant is the perfect introduction to the art and craft of serging, especially for garment sewers who want truly finished edges. With Vibrant, serging isn't scary – it's genuinely exciting!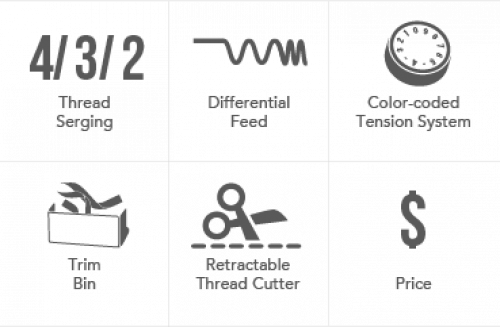 The Baby Lock Vibrant serger's top features include:
Easy color-coded threading
4/3/2 thread serging
Easy adjustable tension system
Retractable thread cutter with push lever
Differential feed
Myers Sewing has certified this pre-owned machine for resale. Certified Pre-Owned Machines must pass a service exam before resale, and we back them with a limited warranty, covering one year of labor, parts, and electrical maintenance. Not every accessory is guaranteed to be included with purchase, but we can always order additional accessories upon request.
To see the full spec sheet, click 
here
 to download the PDF.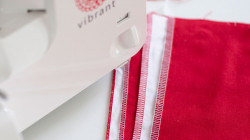 4/3/2 THREAD SERGING
Finish all your projects with quality and versatility - easily switch from 4-thread, 3-thread, 2-thread and rolled hemming for a different look and finish every time.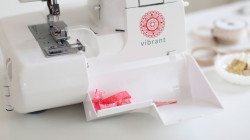 TRIM BIN 
What mess? Attach this handy bin to the front of the Vibrant and those loose threads and scraps are caught right up as they fall.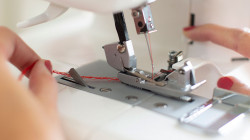 RETRACTABLE THREAD CUTTER WITH PUSH LEVER
Forget fumbling with scissors, Vibrant features a thread cutter that pops up with just a quick push.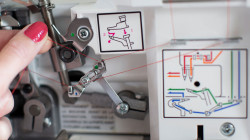 EASY COLOR-CODED THREADING
New to serging? Don't be afraid! Following Vibrant's color-coded thread system, you'll have your serger threaded in no time at all!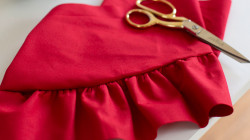 DIFFERENTIAL FEED
Want to add gathers to your next project? Vibrant's differential feed allows you to increase or decrease the fullness in the fabric, making sewing easier on tricky fabrics.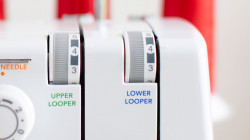 LAY-IN TENSIONS
Use Vibrant's easily adjustable tension settings for a truly balanced stitch every time you serge.