Baby Lock Accomplish Sewing & Quilting Machine (BL520B)
$999.00
Regular price
$1,899.00
Baby Lock Accomplish Sewing & Quilting Machine (BL520B) is backordered and will ship as soon as it is back in stock.
If you want to make something, there's no reason you can't accomplish it with this machine! The Accomplish is built for speed and ready to help you make projects like quilts and purses, but it's also tough enough to sew on thicker fabrics for upholstery and costuming. Choose your next project and then plan it, design it, make it and accomplish it with your new favorite machine.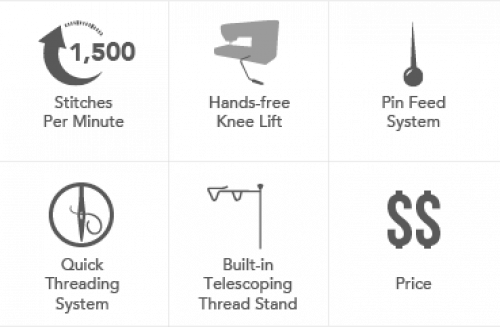 The Baby Lock Accomplish sewing machine's top features include:
1,500 stitches per minute
Quick threading system
Knee lift
Built-in telescoping thread stand
Pin feed system
Included extension table
Plus, for a limited time only, your purchase includes a 60 day trial to online sewing classes ($69 VALUE!)
To see the full spec sheet, click
here
to download the PDF.
SINGLE STITCH MACHINE WITH 1,500 STITCHES PER MINUTE 
1,500 stitches per minute means it's ready to sew in blazing speed for all your garment and quilting projects.
HANDS-FREE KNEE LIFT
Easily pivot fabric with the detachable knee lift that raises the presser foot with a tap of the knee, leaving both hands free to sew.
ROTARY HOOK BOBBIN
Changing bobbins on the fly is now a snap. The rotary hook bobbin is easy to access and features a built-in thread cutter.
PIN FEED SYSTEM
A Precision Pin Feed System makes it easy to sew on a wide variety of fabric thicknesses.
QUICK THREADING SYSTEM
With just a few simple motions, your needle is threaded and ready to use. There's no guesswork, no near-misses and no frustration!
BUILT-IN TELESCOPING THREAD STAND
This telescoping stand can handle even the largest spools of thread for consistent thread delivery on any size project.
INCLUDED EXTENSION TABLE
Easily sew quilts on the Accomplish with the included extension table. This table gives you an additional 23-3/8 inches of space to accommodate larger projects.
Excellent machine and especially for the price.
This machine sews beautifully. It is my go to for any thing thick or bulky. I just love it. The stitches are even and nice. I use it for mending my grandkids clothes, for rope baskets, quilting and more. I wish I had bought this a long time ago. You can't miss on this machine.
Baby Lock Quilting/Sewing machine
Nice machine. It was extremely daunting at first particularly since the bobbin is not a top load. I had problems figuring out the tension but now that I have I really like the machine. Once I do a couple more things with it, it will probably be my go-to machine.
Only wish it had a speed control
Baby Lock accomplish
Absolutely love the sewing machine. High quality machine. Stitches very fast. Heavy machine but does not jar the sewing table. Machine is quiet compared to others.