Baby Lock Brilliant Sewing & Quilting Machine (BL220B)
$999.00
Regular price
$1,799.00
This product is unavailable
A sewing machine that's suited for any type of project? That's genuinely BRILLIANT! Part of the Baby Lock Genuine Collection, the Brilliant is ready to handle anything from garments to home décor to quilts with ease. Plus, it's packed with plenty of stitches and helpful, easy-to-use features, making your next creation absolutely brilliant!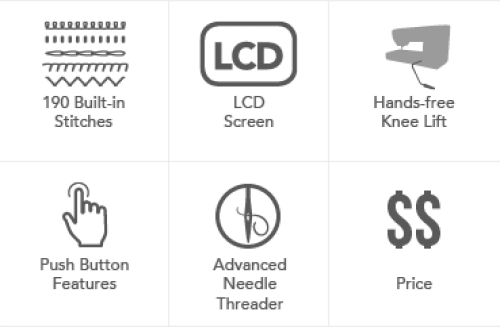 The Baby Lock Brilliant sewing machine's top features include:
190 built-in stitches including 10 one-step buttonholes
Advanced needle threader
LCD screen
Push button features
Knee lift
Quick-set, drop-in bobbin
Programmable stitch functions
Plus, for a limited time only, your purchase includes a 60 day trial to online sewing classes ($69 VALUE!)
To see the full spec sheet, click
here
to download the PDF.
190 STITCHES INCLUDING 10 ONE-STEP BUTTONHOLE STYLES
Add your unique touch to every project with a library of stitches that sets everything apart!
QUICK-SET, DROP-IN BOBBIN
Simply drop your bobbin in the machine, pull your threads through the slot and let your machine do the rest.
HANDS-FREE KNEE LIFT
Eliminate errors with the detachable knee lift that raises the presser foot with a tap of the knee, leaving both hands free to sew.
PUSH BUTTON FEATURES
Start and stop sewing, position the needle up or down, cut your thread and reverse sew – all with just the push of a button.
PROGRAMMABLE STITCH FUNCTIONS
Create your own one-of-a-kind pattern by combining decorative stitches and then save them in Brilliant's built-in memory!
ADVANCED NEEDLE THREADER
With just a few simple motions, your needle is threaded and ready to use. There's no guesswork, no near-misses and no frustration!
QUICK-SET BOBBIN WINDER
Thread is held in place and stops automatically when the bobbin is full. Wind bobbins ahead of time and you'll always be ready to sew.
I am LOVING my new machine!! So easy to use & instructions are easy to understand and follow!!
Baby Lock Brilliant
Enjoy learning about everything my new Baby Lock can do. Especially love the thread cutting button. The folks at Myers are so friendly and great to work with. Justin - thank you for helping me with all my questions I had about the Brilliant before I purchased it. Dusti - you were a delight to work with as you helped me in my new owner's class time.
I LOVE the Baby Lock Brilliant!!
I finally purchased my first brand new sewing machine and I'm so excited! I decided on the Baby Lock Brilliant for the following reasons: it has a feature for a thread cutter (big selling factor for me!), it has an LCD screen that allows you to see which stitch you're on and which foot to use, and it's the perfect size for the projects that I'd like to work on. I was using an old mechanical Janome before and I never felt inspired to use it like I do the Brilliant. I am so excited to use my new machine!! Best purchase EVER!! I highly recommend this machine & Myers Sewing Machine Co.