Baby Lock Euphoria Cover Stitch Machine (BLC4)
$1,599.00
Regular price
$2,499.00
The Baby Lock Euphoria Cover Stitch Machine is a valuable addition to your sewing and serging arsenal. It creates professional-looking seams and finishes for all your projects, from garments to home décor. With its wide range of stitches, including triple, wide, and narrow cover stitches, as well as chain stitch, you can easily create  durable seams on even the trickiest of fabrics. The Euphoria also features ExtraordinAir® Threading, which threads the chain looper with just the touch of a button, and Automatic Thread Delivery™, which automatically calculates tension, so you can get started serging without any fuss.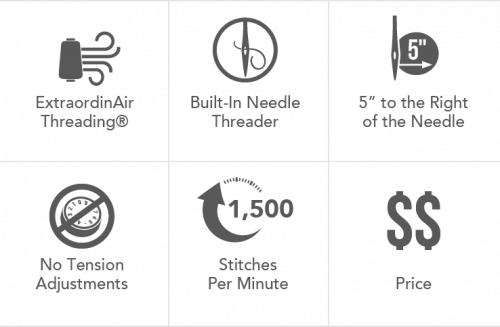 The Baby Lock Euphoria Cover Stitch Serger machine features include:
ExtraordinAir Threading
Built-In Needle Threader
5" to the Right of the Needle
No Tension Adjustments
1,500 Stitches Per Minute
To see the full spec sheet, click
here
to download the PDF.
EXTRAORDINAIR® THREADING
With just a gust of air, ExtraordinAir instantly takes thread through the looper. Threading has never been this fast, easy or extraordinary!
NEEDLE THREADING SYSTEM
Use the needle threader for quick and easy threading of each needle with just the touch of a lever.
CHAIN & COVER STITCHES
Baby Lock has once again revolutionized your sewing! Finish your projects with chain, narrow cover, wide cover, and triple cover stitches for a professional finish everytime.
PURE LIGHTING WITH 3 LED LIGHTS
Clearly see every stitch, fabric and thread color under three bright LED lights.
LARGE THROAT SPACE
Easily stitch on large projects and use optional attachments with room to spare
KNEE LIFT
Raise the presser foot by simply moving the attachable lever with your knee. This leaves both of your hands free for extra control.
ADJUSTABLE PRESSER FOOT HEIGHT UP TO 6MM
Euphoria features a higher presser foot height (6mm) to effortlessly handle thicker and loftier fabric. With the Drop Feed System the feed dogs lower automatically when you raise the presser foot.
AUTOMATIC THREAD DELIVERY™ (ATD) SYSTEM
Set the Euphoria to the type of stitch you want and get started! The Euphoria delivers a balanced stitch on any fabric with any type of thread.
TUBULAR LOOPER
The tubular looper eliminates exposed thread guides and protects the thread. Looper Bypass Port Guide can be used to accommodate specialty or heavy weight decorative thread in the looper.
CHAIN/COVER/LOOPER TENSION SYSTEM
Increase or decrease the tension for the chain/cover stitch looper thread with one conveniently located dial.
FULL FEATURED SINGLE UNIT DIFFERENTIAL FEED
We've taken the differential feed to a new level by adding a single-unit feed dog mechanism. This ensures stronger feeding as well as consistent gathering on all fabrics.
LOOPER DRIVE SYSTEM
This exclusive Looper Drive System prevents the looper from becoming misaligned or out of time, reducing the possibility of major looper damage. This protects your machine from needing repairs, allowing you to stitch worry free!
COVER STITCH CHAINING OFF
Baby Lock has made cover stitching easy to start or stop by automatically chaining off the cover stitch.
VERTICAL NEEDLE PENETRATION
While some machines use slanted needles that push and damage fabric, the Euphoria's needles are set vertically and sew directly up and down, protecting your fabric and preventing needle deflection.
DIAL ADJUSTABLE STITCH LENGTH
Stitch length can be easily adjusted on the Euphoria using one dial.
SAFETY
Machine will not begin stitching until front door and side doors are closed and the presser foot is lowered.