Baby Lock Presto II Sewing & Quilting Machine (BLMPR2)
$799.00
Regular price
$1,299.00
Baby Lock Presto II Sewing & Quilting Machine (BLMPR2) is backordered and will ship as soon as it is back in stock.
Start your next project and watch it get finished in no time at all. The Presto II features 100 built-in stitches and a bright LCD touchscreen that allows you to select and adjust stitches note by note. It also speeds along at 850 stitches per minute helping you get through your quilting and sewing projects fast.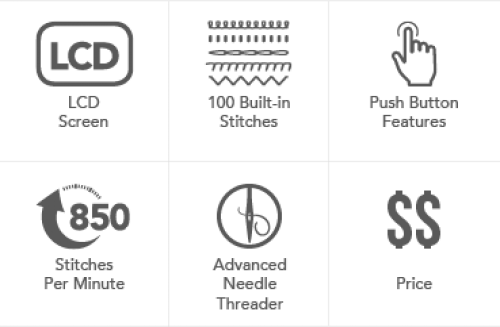 The Baby Lock Presto II quilting and sewing machine features include:
LCD Screen
100 Built-In Stitches
850 Stitches Per Minute Sewing Speed
Advanced Needle Threader
4 Built-In Alphabets
Automatic Thread Cutter
Plus, for a limited time only, your purchase includes a 60 day trial to online sewing classes ($69 VALUE!)
To see the full spec sheet, click
here
to download the PDF.
LCD SCREEN
The LCD Screen makes it a snap to select the right stitch. With the 2.4" x 1.3" LCD Screen, choose from 100 built-in stitch patterns and easily add the specialty stitches you need for your one-of-a-kind creations.
ADVANCED NEEDLE THREADER
Threading a needle has never been easier than with this innovative threader. With just a few simple motions, your needle is threaded and ready to use - it's so easy, you can do it with one hand!
100 BUILT-IN STITCHES | 850 STITCHES PER MINUTE
Projects such as quilting, home decor and crafts require specialty stitches. This machine includes 100 built-in stitches that are perfect for the projects you choose to create. Plus, at 850 stitches per minute, you'll be on to your next project in no time!
QUICK-SET BOBBIN WINDER 
The Presto II takes all of the hassle out of sewing including winding your bobbins! The quick-set winder holds the thread in place and stops automatically when the bobbin is full.
QUICK-SET, TOP-LOADING BOBBIN
Avoid the struggle of changing your bobbin with the quick-set feature. Simply drop your bobbin in the machine, pull your thread through the slot, and let your machine do the rest of the work.
PUSH BUTTON FEATURES
With push button features, your sewing projects have never been easier to complete. Position the needle up or down, add a reinforcement stitch, stitch with the reverse sewing button, or sew without a foot control using the start/stop button.
4 BUILT-IN ALPHABETS
Add personality to your custom-made creations with the Presto II's four built-in alphabets.
AUTOMATIC THREAD CUTTER
Trim thread with the touch of a button. Keep your hands on the project and start sewing elsewhere immediately with a clean, frustration-free trim.
First Babylock
This is my first Babylock, and I am in absolute LOVE with it.