Baby Lock Victory Serger (BLS3)
$1,499.00
Regular price
$2,499.00
Are you tired of struggling to thread your serger? If so, the Baby Lock Victory is the serger for you. With its Jet-Air Threading™ and Automatic Thread Delivery™ features, threading your serger couldn't be easier. Simply touch a lever to thread the lower loopers, and the machine will automatically thread the upper and lower loopers in any order. Plus, the Victory's 6mm presser foot lift makes it effortless to serge and switch between various fabrics.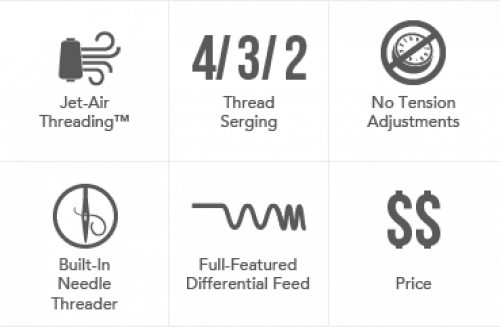 The Baby Lock Victory serger's top features include:
Easy push lever looper threading
Built-in needle threader
No tension adjustments
4/3/2 thread serging
Full featured differential feed
2 bright LED lights
Adjustable presser foot height up to 6MM
Plus, for a limited time only, your purchase includes a 60 day trial to online sewing classes ($69 VALUE!)
To see the full spec sheet, click 
here
 to download the PDF.
JET-AIR THREADING
With just the touch of a lever, thread is sent through the tubular loopers. There are no thread guides, no struggling and there's plenty of time to serge away.
NEEDLE THREADING SYSTEM
Hold the needle threader in place for quick and easy threading with just the touch of a lever.
AUTOMATIC THREAD DELIVERY
Set the Victory to the type of stitch you want and get started! The Victory delivers a balanced stitch on any fabric with any type of thread.
PURE LIGHTING WITH 2 LED LIGHTS 
Clearly see every stitch, fabric and thread color under two bright LED lights.
ADJUSTABLE PRESSER FOOT HEIGHT UP TO 6MM
Victory features a higher presser foot height to effortlessly handle thicker and loftier fabric.
TUBULAR LOOPERS 
There's no exposed thread, no thread guides and you can thread in any order! Tubular loopers eliminate threading mistakes and protect the thread for more serging freedom.
FULL FEATURED SINGLE UNIT DIFFERENTIAL FEED
We've taken the differential feed to a new level by adding a single-unit feed dog mechanism. This ensures stronger feeding as well as consistent gathering on all fabrics.
LOOPER DRIVE SYSTEM
This exclusive Looper Drive System prevents loopers from becoming misaligned or out of time, reducing the possibility of major looper damage. This protects your machine from needing repairs, allowing you to serge worry free!
ADVANCED KNIFE DRIVING AND ONE-WAY CLUTCH SYSTEM 
Baby Lock has created a knife system with a larger cutting bite that cuts thicker fabric with ease and increased visibility.
VERTICAL NEEDLE PENETRATION
While some machines use slanted needles that push and damage fabric, the Victory's needles are set vertically and sew directly up and down, protecting your fabric and preventing needle deflection.
DIAL ADJUSTABLE STITCH LENGTH AND AUTOMATIC ROLLED HEM
Stitch length can be easily adjusted on a Baby Lock serger using one dial. This dial includes an Automatic Rolled Hem setting that will retract the built-in stitch width finger for a rolled hem finish.
The Fabric Support System keeps stitches flat and balanced, no matter what speed, fabric or stitch you choose. The built- in stitch fingers actually move with the knife blade, adjusting the seam concurrently with the cutting width.
Great customer service and new machine
My 23-year-old serger had a major part break and would be hard to find and expensive to replace, so I decided to buy Baby Lock sergers. They helped me find the right one for my budget and needs (Baby Lock Victory) and gave me some extra bonuses with it. This machine is so much easier to use than my old one and takes a lot less time to set up to start sewing! I signed up for the Love of Sewing Membership that gives me tons of videos on my machine, an extended warranty, new techniques to try and points to cash in later when I buy other things. The customer service from Myers Sewing was excellent. They were very friendly and not pushy at all. I hope to have a long relationship with them.
Stop right now and buy this serger!
Best decision ever! This serger is so easy to use with air threading and auto tension. So easy to set up and rethread. I love this thing! The instructions for the different stitches are simple to follow amd gives me exactly what stitch I set the machine up for without finnagling with the tension. I was even able to get trade in credit for my old serger at Myers, and as always had a great experience in store when picking up the machine.
Awesome
So far it's been a piece of cake to operate
Great serger
I was looking for an easy to use serger and found it at Myers. People in the store were super friendly and helpful and I got a great lesson from the owner when picking up my machine. Still learning, but so far so good. I love my Baby Lock Victory!